In our wellbeing programs we combine nature sports, relaxation and healthy local food. The objectives of our services are chosen with the client and the effects will be monitored jointly. Wellbeing services are based on long-term client relationships, where mutual trust and knowing each other guarantee the best result.
In all wellbeing services we co-operate with health- and social care professionals.
All our wellbeing packages are tailored to the customer and the season. Please contact us, and lets begin the planning. Nature offers countless possibilities!
A Wellbeing Day at Moutiaisten Holiday Cottages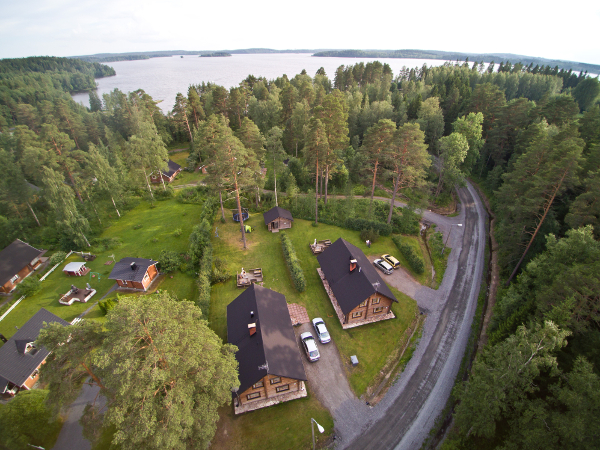 When staying at Muotiaisten holiday cottages you can enjoy an activity program in the nature. Plan your own program picking up 2 from the following, by time of year changing activities:
* basket climbing / human lift
* canoeing with big, stable canoes for 6 persons
* kick biking / nordic walking
* snowshoeing
* kick sledgeing (when the ice and snow situation allows it)
* funny team activities: kick sledge for 4 persons, team skis for 5 persons
Group size: Min. 4 pers., max. 20 pers.
Transportation: By agreement with extra cost if needed.
Meals: Meal by an open fire, e.g. flamed salmon, potatoes, salad, crepes and coffee made by an open fire, 25 €/person min. 4 persons.
Duration: Depending from the group size 1,5 h – 3 h.
Price: During the week, from Mon to Thu 170 € + 30 €/person, on weekends Fri – Sun 210 € + 30 €/person, includes 1 night accomodation in Kultakartano-/ Kaivoskartano-cottages, activities, equipment and VAT.
Time of year: Available all other times exept 24.-25.12. and Good Friday.
Equipment: The participants are required to wear outdoor clothes according to the weather.
Service language: Finnish, English, German, Swedish, Russian, French.