Hiking Travel, Hit organizes thematic guided tours in Tampere. You can either get acquainted with the cities glorious industrial heritage, appealing sights, interesting museums or magnificent nature and wonderful sceneries both by walking, kick biking, by local Nysse bus or on water in a canoe or in winter skating or kick sledgeing.
Guided tours can be organized in Finnish, English, German, Swedish, Russian and French. By request we can organize transportation to the site, add different services to the the product, like coffee/meal, sauna+other program services.
First below you can find our guided tours for groups. Further down there are also options for individual clients.
Tasting Tampere – the best beers, exellent experiences and original flavours! (Visit Finland Authentic Culture Experience winner 2017)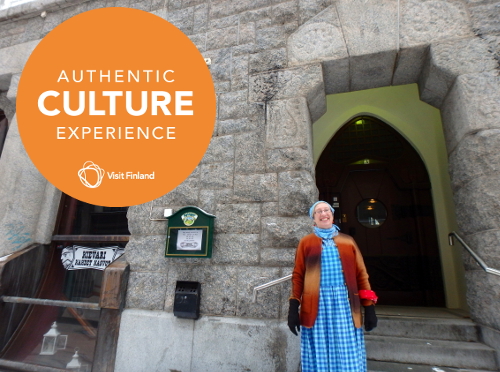 Get to know Tampere by tasting the local food and drinks, excellent beers/wines, fascinating gins, delicious sausages and cheese, original local food at it's best!
The guided walking tour in the city center is full of nice surprises, relaxed atmosphere, joy, wonderful flavours and excellent experiences to remember! Enjoy the taste of Tampere!
One can choose either a beer or wine tasting tour: Beers coming from the local Nordic Brewery and wines from Rönnvik Wine estate in Pälkäne. The beer tour starts from Bookers Express Bar (Hämeenkatu 14) with a Sahti (historical Finnish beer) tasting. And the wine tour starts from Deli 1909 & Wine Bar (Puutarhakatu 11). Tasting will take place in Gastropub Nordic and in the end of the tour there will be a three-course dinner in the restaurant Kievari Kahdet Kasvot. A famous Finnish Gin as appetizer and best local beers/wines as beverage.
Group size: 4-50 persons.
Transportation: Local bus tickets included. If needed a charter bus with extra cost.
Meals: Bookers Express Bar: Sahti tasting/Deli 1909 & Wine sparkling wine, Gastropub Nordic: 3 beer/wine tasting, Kievari Kahdet Kasvot: 3 courses dinner, as appertizer Finnish Gin and as meal beverage 2 beers/wines. The beers can be changed into non alcoholic drinks. During the meals it is possible to buy more beverages with own expense.
Duration: 3 hours+dinner.
Price: 65 € / pers. inc. vat.
Time: All year round (not on 24.-25.12.).
Equipment: Participants are required to dress according to the weather.
Service languages: Finnish, English, German, Swedish, Russian and French.
Other information: The product is variable. The theme can be chosen with following contents: the Industrialisation of Tampere (in the end of 1800 Tampere was the most important industrial town and was called the Manchester of Finland), ManseRock, Tampere – the town between two big lakes and vast green forests, Women´s Tampere – Cotton Angels town, The Theatre town Tampere, Tampere famous for it´s schools, sciense and innovations and so on…
Towers of Tampere – A Stylish Visit in Tampere
You will see the town of Tampere through three towers and three different perspectives. In the old Pyynikki sightseeing tower you are in a unique pine forest, inside a beautiful nature spot just in the middle of the town. On the terrace of Hotel Torni you are in the heart of a modern cultural center and a vivid university town and from the high Näsinneula Tower you see the wide green and blue nature surrounding the town.
Group size: 4-25 persons
Transportation: Includes local bus ride, if needed additional transportation by agreement.
Meals: you can make a reservation for: welcoming coffee and doughnut at Pyynikki sightseeing tower cafe, lunch soup/smoothie Tower-hotel Moro Bar, coffee and bun at Villa Sofia and lunch/dinner at restaurant Nasinneula.
Duration: By agreement, minimum 2,5 h.
Price: 50 € – 200 €/person
Time: All year round.
Equipment: Equipment (by request walking sticks and kick bikes) are included. Participants are required to wear according to the weather.
Service languages: Finnish, English, German
In the Patrons Footsteps – Facts and Stories about Industrialized Tampere
When you are in Tampere you should get to know the town´s industrial traditions and how the marketplace of Tammerkoski grew into the Manchester of Finland. This adventure in Finlayson´s industrial area proves that looking into history can be fun!
The group will meet their guide at Tallipiha where there will be welcoming coffee and bun.
The cotton girl or one of the few male factory workers will lead you into the history of the industrialization of Tampere during a tour of a couple of hours. The stories will tell about partisan leaders Rooth and Spoof, Wilhelm von Nottbeck and author Väinö Linna who worked in the Finlayson area. The historical tour on the narrow lanes of Finlayson and on the corridors of Siperia will be made on foot or by kickboard. The trip can end with a beer tasting (and dinner) in the brewery restaurant Plevna, Gastropub Tuulensuu, restaurant Laterna or other restaurants in the city.
A visit in Työväen Keskusmuseo Werstas or communication museum Rupriikki can be added in to the trip by an advance reservation.
Groupsize: Kick bike trip max. 20 pers. On foot max. 60 pers.
Transportation: For extra payment.
Meals: Price includes welcoming coffee and beer tasting. Dinner for extra payment.
Duration: 2-4h.
Price: 640 € +15 €/pers. Price includes 24 % VAT.
Time of year: All the year round.
Equipment: Participants are required to wear according to the weather. Other equipment comes from the organizer.
Service languages: Finnish, Swedish, German and English. For French and Estonian we hope to get a request at least two weeks in advance.
Other information: The program is suitable for all fitnesses and ages.
These product presentations are suggestive.  Hiking Travel, Hit Ky holds the rights to any and all changes.
Guided Sport Tours
In addition to groups we organize guided tours for individual clients also. These guided tours often come with a sport element. Our guided sport tours are available in Finnish or English.